Delaware Tech, DSU plead their case for budget increases to the Joint Finance Committee | The Latest from WDEL News
Delaware Technical and Community College and Delaware State University pled their cases Thursday to the General Assembly's Joint Finance Committee regarding proposed budget increases for the new fiscal year.
Delaware State University submitted a budget containing a 2 percent increase, equating to $770,000. That would bring the university's total budget to just over $39.1 million. Delaware Tech submitted a proposal rising by close to the same percentage range at 2.6%. But with larger overall projected budget of $88.9 million, that increase would mean an additional $2.2 million.
While schools across the country are facing challenges due to decreasing enrollment in the midst of a pandemic, only Delaware Tech saw their enrollment numbers–and bottom line–impacted.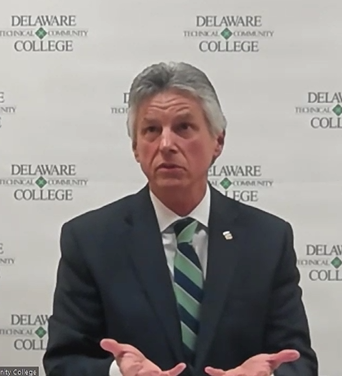 "If you look at…the enrollment of community colleges throughout the country, folks are experiencing anywhere from a 5% to a 30% decrease, depending on the market," Delaware Tech President Dr. Mark Brainard said. "Last year, we saw a 9% decrease in enrollment."
Delawareans make up 97% of the student body, he said, and outreach conducted by the school found that students who had not enrolled cited the financial struggles created by the pandemic as the main reason for discontinuing their education. 
Conversely, DSU's President Dr. Tony Allen said the HBCU's hard work has increased enrollment by 40% since 2009. Allen said, they were lucky to have enrollment hold steady through the pandemic even as college enrollment nationwide has decreased slightly over that same time period. Fifty-two percent of DSU's student body is from Delaware. 
"If you've been watching the trends in colleges and universities over the year during the pandemic, you'll note that enrollment is down in all sectors. We've been able to keep it flat here at Delaware State University," Allen said. "Undergraduate enrollment–which is to say, first-time enrollees at the university–is down 4%, but continuing students is up 9%, the largest climb in our 130-year history. Couple that with a significant growth in our graduate enrollment at 30%, you can see that being able to not only diversify our portfolio, but build capacity for new programs and offerings in the future will set us up well post-pandemic."
Those numbers remained intact, Allen said, partly thanks to their prior efforts to provide virtual options even before COVID-19 arrived. 
"Two years ago now, [we] did a deal with Apple where we were able to give every incoming freshmen an iPad or MacBook Pro, as well as the faculty, and the idea was we would go digital by 2020," he said. "We did not know that 2020 would emerge as the year of the pandemic. The reality for that program is that it's been good for us, but the take rate was slow, until we were faced with the challenge of how we would educate from afar. I think that still remains an opportunity for us on the undergraduate side."
While Delaware Tech wasn't able to avoid a decrease in its student body, Brainard praised the Carney administration for its foresight in establishing good financial positioning for the state prior to the crisis, which staved off major disaster and kept the school's needs low. 
"I think it's really important that, as a state agency…our tech community is sensitive to the fact that, thanks to the foresight of policymakers, we were able to get through the last fiscal year with the budget intact. We came into this fiscal year flat," he said. "We all recognize that while we had priorities during the last budget rounds; we've found ways to make it work…we basically popped the hood on our operations, and…we reduced and cut back where we needed to; we redeployed and found employees with capacity and shifted them to other areas that required additional student support. Right now, that's where we are coming from."
The school is currently looking at finishing a number of ongoing projects and eyeing more in the near future, including a Middletown Training Center, the East building in Wilmington, the B wing in Stanton, and the Terry Building in Dover. Brainard said one of the priorities this year is making sure salaries for Delaware Tech's educators remain competitive.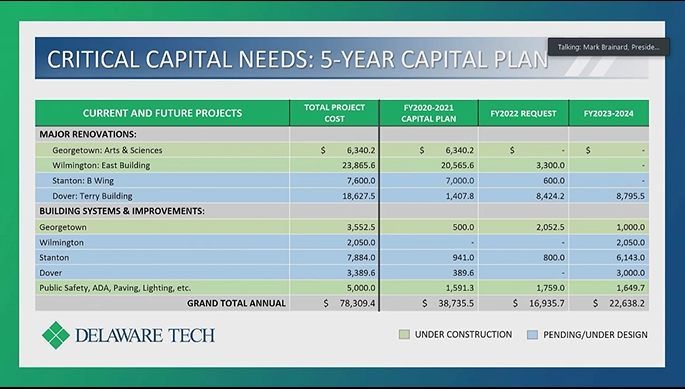 "We're not leveling up every year," Brainard said. "Our faculty goes through and gets steps…This is simply looking at the average compensation rate that each of those levels has…we're just saying that that average compensation rate should be more competitive."
When asked if that would require more money in the future, he replied that the most important angle to approach the conversation from is to focus on one factor: the school only maintains the good work it does by attracting teachers who can accomplish their ultimate goals.  
"It's a good start. I think what I said earlier is that we're not trying to solve this problem all at once because, if anything, I think you'll find it the folks over here are extremely sensitive to the fiscal situation, and the decisions that you all have to make in any given budget year," Brainard said. "We don't walk in and ask for unreasonable things, I think what we're trying to do is just get the process started…It's not a complaint. I'm not whining. It's the cold, hard reality; it is what it is…We're ranking 17th out of 19 [districts]. We're not trying to fix this all at one time, we totally understand the challenges that you all have. But if we can get a start on it, we're appreciative for that."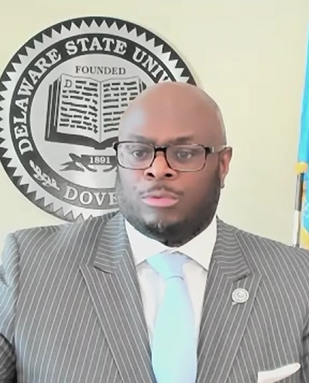 The nursing and aviation programs at DSU have seen great successes, Allen said, and the university is Delaware's number one generator for teachers of color–all programs he'd like to continue expanding, With an influx of cash this past year in the form of $20 million from philanthropist MacKenzie Scott, he said their endowment has grown to about $40 million, but that doesn't mean the school is without need of assistance. 
"We have been grateful to receive additional support in this particular area by the likes of JPMorgan Chase, Bank of America, TikTok, and many other significant Fortune 500 companies that are now reinvesting in Delaware State University in a much different way than they have before our operating budget request," he said.
"With respect to our resources, it's made more challenging for us if we're not able to get some more full funding from the state," Allen added later. "We're not a billion-dollar endowment operation. We're a $40 million endowment operation. We like to keep our tuition low because of the nature of our students, and while we're building more capacity as it relates to fee-for-service operations and private financing gifts, really, being able to come to the General Assembly and ask for these funds will help us grow."