600K Journalists Analyzed: What You Need To Know To Pitch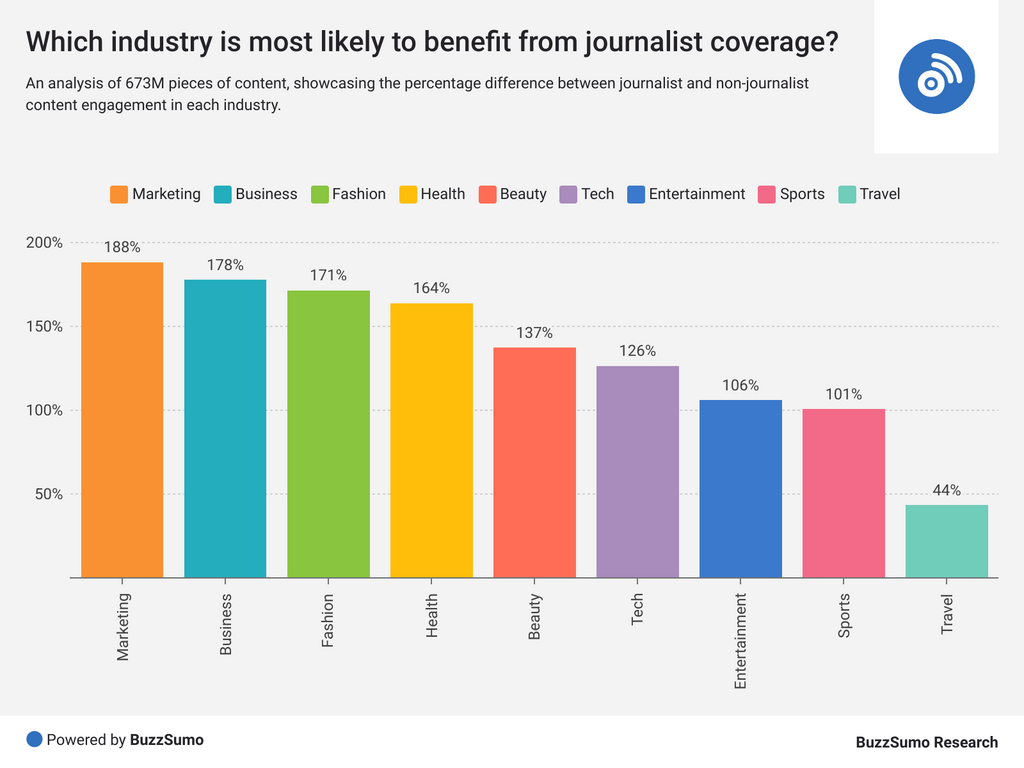 Then we added up those percentages, and divided by the total number of brand alerts. This gave us 5%.
So if 5% of mentions come from journalists, that means the remaining 95% come from non-journalists.
At risk of stating the obvious, that's a fairly big difference! And it just underscores the challenge that PRs face every day, when it comes to pitching their brand as relevant and valuable in the eyes of journalists.
To say you should treat this 5% as a KPI for your own brand mentions would be to oversimplify things.
While it's always important to take a temperature check and set goals, the process of building strong working relationships with journalists shouldn't be one that is metric-obsessed.
Say it louder! Relationship-building is a long-term play. Applying metrics to this crucial art of PR turns it into a transactional relationship that doesn't typically yield consistent results.
Tamara Sykes, Outreach Manager, Stacker
The more you numericize relationship building, the more you risk depersonalizing the process, and alienating a journalist altogether.
Being hyper-focused on targets will lead to desperate practices like pitch-spamming.
And if you prioritize the quick-win, you'll end up wasting time in the long run.
As Gisele Navarro, Founder of NeoMam Studios, writes:
"When you plan and execute outreach campaigns that automate a vast majority of steps in the process, you're leaving the human in you out of the equation. That is the moment when outreach is no longer a human to human connection, at that point your outreach is just spam."
According to Cision's State of the Media report, 43% of journalists want PRs to stop spamming them, and 74% of journalists simply won't tolerate it.
Our own survey data backs this up, with 65% of journalists saying that their number one pet peeve is being spammed repeatedly by email or phone.
And, just to drive that point home a little further, journalists across the /r/Journalism subreddit are very vocal about their hatred for spam, with many stating that they immediately delete it.
"If you keep spamming the inboxes I'm just going to delete everything because I don't have time for that. The few PR people I do have good relationships with have all been through direct contact, not-mass-spam emails. My suggestion is: pick one or two reporters that you can build a relationship with. Talk to them as human beings first, and then after building that relationship, pitch them the stories they'll be more likely to respond to."
Jaded-Cheesecake-423, Reporter, Reddit discussion: PR person here concerned about our bad rap
Being KPI-consumed or scale-obsessed is a recipe for disaster when it comes to pitching journalists.
Instead be selective, patient, and above all else, human.